Delivery & Returns
---
Delivery:
Due to the size and weight of the furniture we only offer delivery within a designated area of South Western Ontario (see map below). Our White Glove delivery includes bringing the furniture to the room, setting up any pieces that require assembly, and removing all packing materials. When we leave just fill the drawers, make the bed, and relax in your new bedroom. We only ask that the room has space for the furniture as the delivery personnel will not move existing pieces. That means grandma's antique armoire has to be moved to the basement prior to the scheduled delivery. Please call or email for additional information.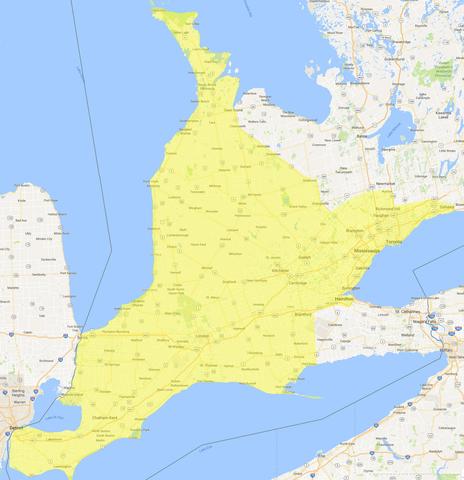 Order Time:
Most of our furniture is made when we order it from Canadian manufacturers. This allows you to select from a range of furniture pieces, finishes, and knobs. Order time does vary depending on the manufacturer and can take approximately 4-12 weeks. Additional order time of 2-3 weeks may be required due to factory shutdowns in the summer and at Christmas time. Please call or email if you would like the current order time for a specific item or manufacturer.
Delivery Time:
Once your order arrives at our location it will be inspected. We will then contact you to arrange a delivery date.
Returns:
Special Order items are FINAL SALE.
---